100H MULTI-STYLE YOGA TEACHER TRAINING
Unlock Your Potential in Two weeks:
Transform Mind, Body, and Soul!
| 100 HOUR YOGA TTC | COURSE FEE |
| --- | --- |
| | |
| | |
| | |
| 2 Persons Sharing 1 Private Room: | |
ABOUT OUR 100 HOURS YOGA TEACHER TRAINING COURSE
Embark on a life-changing journey with our 100-hour yoga teacher training in Rishikesh, India.
This comprehensive course is perfect for beginners, providing a transformative experience that allows you to integrate the wisdom of yoga into your daily life.
By fostering enthusiasm and embracing personal growth, You'll discover that this program is accessible and immensely rewarding.
Our two-week 100 hour yoga teacher training program (100h YTTC) is meticulously designed to elevate Your self-practice and serve as a stepping stone to the intermediate level 200-hour Yoga Teacher Training Course (200h YTTC).
Similar to ascending a staircase to reach the roof, completing the 100-hour course is a crucial milestone towards achieving the coveted 200-hour certification.
While this course ignites a fire within your body and mind, its purpose extends beyond personal satisfaction—it inspires you to pursue continuous growth and development.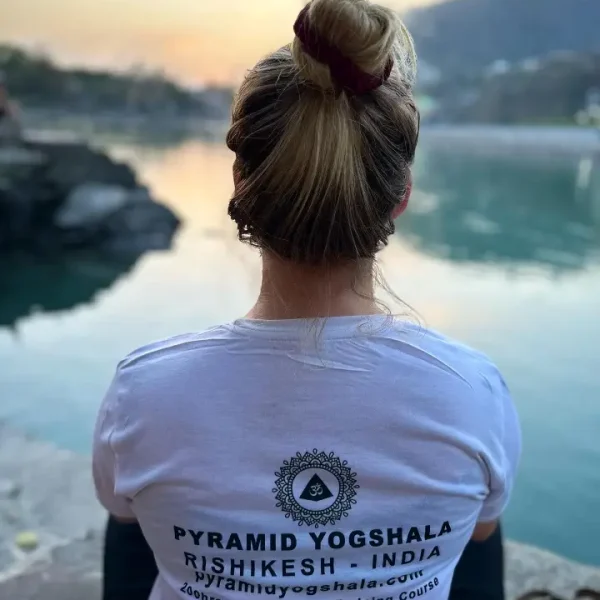 WHO IS THIS COURSE FOR, Yoga teacher training?
This course is for you if:
You are an aspiring yoga teacher.

You want to take a Yoga/Satvik holiday or a sabbatical.
You are looking to add additional hours to your pre-existing yoga teaching certification.
You want to take advantage of our discounted group bookings or seasonal offers.
Highly Reviewed on Google
AFFILIATED WITH YOGA ALLIANCE USA
All students who complete the course will receive diploma and are eligible to register with Yoga Alliance as Registered Yoga Teachers (RYT®).

Rooted in the ancient traditions of Hatha Yoga and Ashtanga Vinyasa Yoga, our 100-hour yoga teacher training is conducted at our Ashram facilities in Laxman Jhula, Rishikesh.
As a residential program, it offers an immersive and intensive experience, catering to students who are unable to commit to a month-long certification course.
At Pyramid Yogshala, we are deeply committed to preserving the Himalayan teachings and the authentic Yoga tradition. Our highly experienced yoga masters will provide professional training to guide you on the path to becoming a certified yoga instructor.


Please be aware that this program is shared with other affiliated schools, providing you with a unique opportunity to connect and learn along with fellow students from different yoga schools.
| 100 HOUR YOGA TTC | COURSE FEES |
| --- | --- |
| | |
| | |
| | |
| 2 Persons Sharing 1 Private Room: | |
(*Triple shared rooms are only for Females)
BOOK YOUR YOGA TEACHER TRAINING WITH US
This 100 Hour Yoga TTC Course is open and tailored to meet the needs of yogis at all levels. Equal focus is paid on theoretical and practical aspects.
All subjects and topics are those prescribed in the extensive and holistic format laid out by Yoga Alliance USA. 
Here's a quick snapshot for you.
DAILY SCHEDULE & ITINERARY
BOOK YOUR YOGA TEACHER TRAINING WITH US