| 200 HOUR YOGA TTC | CPURSE FEES |
| --- | --- |
| | |
| | |
| | |
| 2 Persons Sharing 1 Private Room: | |
ABOUT OUR 200 HOURS YOGA TEACHER TRAINING COURSE
This Pyramid Yogshala's 200 Hour Yoga Teacher Training in Rishikesh is dedicated to imparting authentic and comprehensive teachings of traditional yoga styles.
Our program encompasses a wide range of essential subjects, including Yoga philosophy, yogic lifestyle, asanas, pranayama, anatomy, meditation, mantra-chanting, teaching methodology, alignment, ashtanga vinyasa.
Additional modules on Naturopathy and Ayurveda where added to the curriculum for a broader view on Yoga and it's sister sciences.
Led by seasoned yogis who have dedicated their lives to the practice and study of yoga, our courses provide a genuine and enriching experience.
With a maximum group size of 25 participants comprising individuals from diverse nationalities and cultures, our Yoga Teacher Training courses foster a sense of kinship and collaboration.
We take pride in creating a nurturing and inclusive learning environment where participants feel safe and encouraged to freely express themselves.
The meticulously designed program features classes on various aspects of yoga, such as meditation, mantra chanting, shatkriya (cleansing processes), Hatha yoga, Ashtanga Vinyasa yoga, anatomy, yoga philosophy, Yoga Teaching Methodology, Adjustment and Alignment, Naturopathy and Ayurveda.
Throughout your stay, you will undergo a transformative journey that leads to personal growth while forging connections with like-minded individuals on the path of 200 Hours Yoga Teacher Training, elevating consciousness, and contributing to the healing of humanity.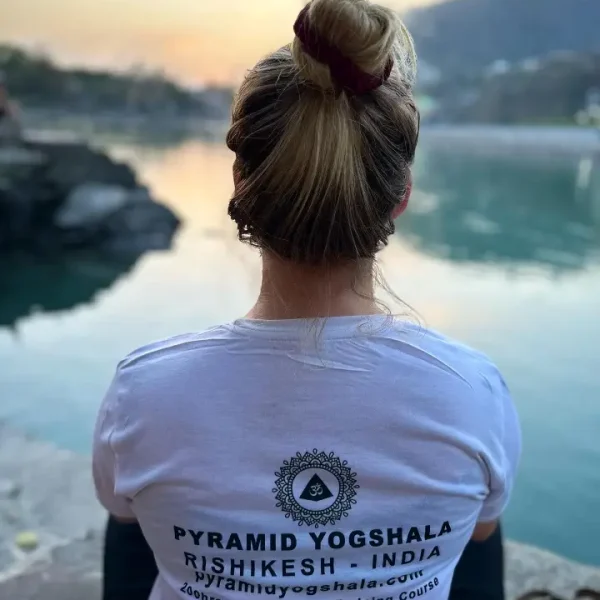 THE RIGHT 200 HOURS YOGA TEACHER TRAINING COURSE FOR YOU
This course is ideal for you if:
You are an aspiring yoga teacher and looking to get professional training and certificate.
You want to take a Yoga/Satvik holiday or a sabbatical.
You are looking to add additional hours to your pre-existing yoga teaching certification.
You want to take advantage of our discounted group bookings or seasonal offers.
Highly Reviewed on Google
AFFILIATED WITH YOGA ALLIANCE USA
All students who complete the course will receive diploma and are eligible to register withYoga Alliance as Registered Yoga Teachers (RYT®).

ABOUT THE PROGRAM 200 HOURS YOGA TEACHER TRAINING
The curriculum accommodates practitioners of all levels, enabling them to enhance their own practice and develop their teaching skills.
Upon completion of the course, participants will receive a certificate of completion and become eligible for registration with Yoga Alliance, allowing them to teach yoga anywhere in the world.
Pyramid Yogshala provides all necessary yoga class materials, including mats, bolsters, bricks, and belts. However, participants are welcome to bring their own personal yoga mat if desired.
As part of our commitment to your learning experience, we offer a comprehensive yoga kit during the welcoming ceremony. This kit includes study materials, a notebook, a neti-pot, rubber neti, a school t-shirt, and a bag.
These resources are designed to support your journey and facilitate a deeper understanding of the yogic teachings.
Immerse yourself in the transformative power of yoga with Pyramid Yogshala's 200 Hour Yoga Teacher Training in Rishikesh.
Join us and embark on a life-changing adventure that will empower you to share the profound wisdom of yoga with the world.
| 200 HOUR YOGA TTC (28 DAYS) | COURSE FEES |
| --- | --- |
| | |
| | |
| | |
| 2 Persons Sharing 1 Private Room: | |
(*Triple shared rooms are only for Females)
BOOK YOUR YOGA TEACHER TRAINING WITH US
This 200 Hours Yoga Teacher Training Course is open and tailored to meet the needs of yogis at all levels. Equal focus is paid on theoretical and practical aspects.
All subjects and topics are those prescribed in the extensive, and holistic format laid out by Yoga Alliance USA. Here's a quick snapshot for you.
DAILY SCHEDULE & ITINERARY
BOOK YOUR 200 HOURS YOGA TEACHER TRAINING WITH US