Since the Beatles visited 50 years ago, Rishikesh has cemented its place as a major yoga location. In fact, it is often called the Yoga Capital of the world.
The newest railway station for the city is in fact called "Yog Nagri"(Yoga City). This is testament to its status as a higher place of yoga learning.
To place Rishikesh and its unique place Yoga history in proper context, this piece will attempt a brief yet detailed overview of Yoga and its relation to this millenia-old town.
Origin of Rishikesh's name
It is said that after the sage Raibya rishi performed penance here to Lord Vishnu, he came to the Rishi in the form of a god called "Hrishikesh". The name from this story has stuck even in contemporary times.
Lord Ram, the 8th avatar of Lord Vishnu is also said to have performed penance with his bother Lord Laxman. Today, Rishikesh has two bridges named after these two brothers, as well as Sita, the wife of Lord Ram.
These facts place Rishikesh as one of the major destinations for starting a yogic spiritual journey. India has been a land for spiritual seekers since ancient times.
The spiritual importance of Rishikesh
Here is a list of some of the many reasons you should consider Rishikesh as a yoga/spiritual destination :
1. The Mighty Ganges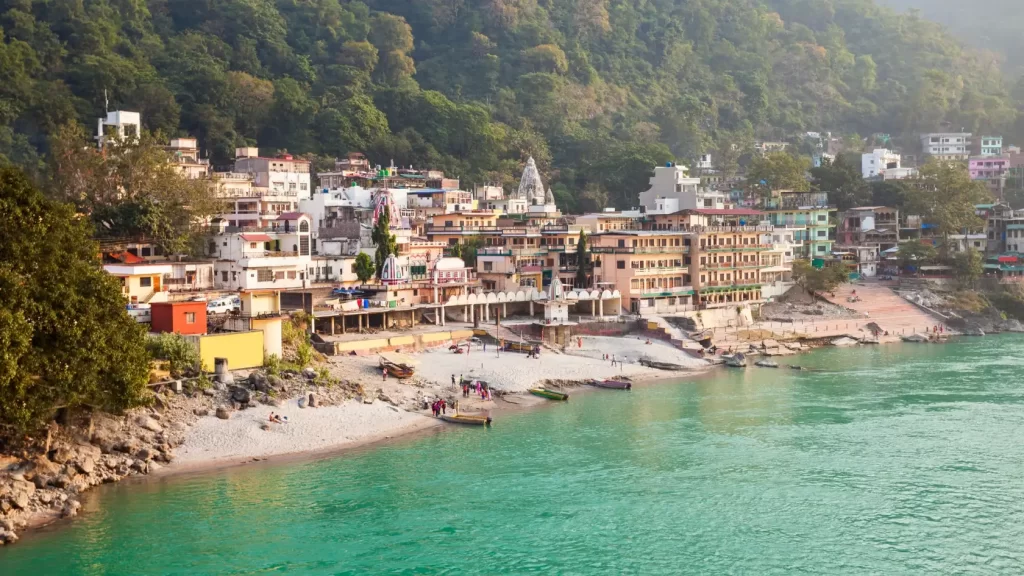 Flowing from the Gangotri glacier, it is a river steeped in tradition and mythology. The Ganga is believed to have originated from Lord Shiva's hair in a bun.
People from the Hindu faith have for centuries bathed in its waters to expiate their sins, consecrated their ancestors, and meditated on its banks or ghats, as they are called in Hindi.
2. Ancient temples
Rishikesh is the land of ancient temples and cave systems that are still used for mindfulness and meditation. Ganga aarti takes place on the ghat near these temples every morning & evening. Witnessing an Aarti is very beautiful and spending an evening here is food for the body, soul, and mind.
Every morning, Hindu religious songs(bhajans) reverberate throughout the city, filling the air with a calm, meditative feel. A lot of temples and shops play this music all day long, enhancing this divine feeling.
If you're interested in visiting temples when in Rishikesh, you can visit ancient temples such as Kunjapuri Devi, Neelkanth Mahadev, Bharat Mandir, and Shatrughna Temple.
3. Yoga ashrams
People have been coming to this ancient city in search of its spiritual nourishment for millennia. This land has been touched by countless saints and Gurus.
Some of these saints have left behind a continuing yoga legacy by establishing Yoga Ashrams.
Parmarth Niketan, Sivananada Ashram and Geeta Bhawan are among the most visited by spiritual seekers from India and the world.
In these Ashrams, you can stay for free for multiple days, practice yoga, and even perform shram daan(voluntary service).
You will also get to interact with and learn from lifelong yogis, who have dedicated their entire lives to this tradition.
4. Natural splendor and peaceful environs
Rishikesh is still far away from being overdeveloped, even though construction has boomed in recent decades as more tourists pour in each year.
However, as there are several protected areas and green spaces, you can have a quick yoga session pretty much anywhere.
There are secret and not-so-secret waterfalls overlooking hillside scenes. Languors, monkeys, elephants, and deer in the jungle next door add to its appeal as a natural escape, where you can truly connect with your spiritual senses, not just break into a sweat.
5. Food culture
Western food culture is a culture of meat and alcohol. Ayurveda teaches us that such food has Rajasic and Tamasic energy (unnecessarily high energy and negative energy). Such foods upset the body's natural rhythm and cause the mind to become heavy.
Vegetarian food, on the other hand, is filled with Sattvic energy (positive energy), which makes you rejuvenated. Such a diet does not interfere with the body's sensitivity and energy.
As Rishikesh is a declared holy city, such foods are not permitted here. This means that you and others around you are feeling light, and vibrant. Experiencing a culturally Indian diet also helps you become connected to the roots of the yogic lifestyle. You also get exposure to healthy Indian spices, and medicinal plants, adding vital nutrients to the temple that is your body.
6. Perfect Jump off point
Rishikesh is located in the state of Uttarakhand and sits at the foothills of the great Himalayas. Hindus in this region have four principal places of worship known as the Chota Char Dhaam all located here in Uttarakhand namely- Kedarnath, Yamunotri, Badrinath, and Gangotri.
Of these four, Kedarnath and Badrinath are also part of the large Char Dham Yatra, along with Dwarka and Puri temple in Gujarat, and Odisha respectively.
To visit these places, you can use direct buses from the Rishikesh Bus stand, and book private or shared cabs. The adventurous and those with time can also rent two-wheelers/bicycles and drive/pedal off on a great Himalayan journey of a lifetime.
The Valley of Flowers and nearby Hemkunt Gurudwara of the Sikhs are also popular destinations, providing a unique high altitude spiritual experience.
7. Other spiritual experiences
In addition to yoga, Rishikesh also plays host to seekers learning the Art of Reiki, Transcendental Mediation, classical Indian music, and cooking.
Even the shopping experience has a spiritual element, with shops selling healing crystals, Tibetan sound bowls, and havan samagri (ingreditents used in Indian traditions like Aarti).
Growth of Yoga education in Rishikesh
Yoga in ancient times was not meant for public consumption: it was considered 'secret knowldege', to only be shared with initiates, as it was associated with enlightenment and other powers of the mind.
As the West developed an interest in yoga through the 19th and 20th Century, yoga and its practice became democratized.
Women (who were not allowed to learn yoga initially) and spiritually minded people from all over the world started a tradition of visiting the ancient ashrams to learn under famous yoga gurus like Swami Sivananada and Swami Omkarnanda.
This interest expanded after the Beatles came here to learn Transcendental Yoga under Maharishi Mahesh Yogi.
Since then, first traditional ashrams like Sivananda Ashram and Parmarth Niketan fulfilled the curiosity of aspirational yogis.
As this demand has grown exponentially, the students from such institutions set up their own yoga studios, and after 1999, started to get affiliated with organizations like Yoga Alliance USA, so they could help their students in becoming earning yoga professionals.
Today, Rishikesh has hundreds of yoga schools, big and small. The vast majority of these schools offer the chance for students to become yoga teachers, and get all the benefits of learning Yoga in its capital.
Yoga Teacher Training in Rishikesh
Pyramid Yogshala offers 50, 100, and 200-hour Yoga Teacher Training. Our master Yogis have all been involved in Yoga their whole life, as they were born in and around the world's Yoga capital.
When you are in Rishikesh, you realize that Yoga and spirituality are literally baked into the city's very fabric.
Our yoga facilities make becoming a Registered Yoga Teacher very simple. You get to stay in the lap of the Himalayas, enjoying sattvic food and rooms with all modern amenities.
Students at our Yoga school also get to experience the local sights and sounds, as we always have day-long excursions into Rishikesh, such as to the famous Kunjapuri temple, the 'Secret waterfall', and the local markets.
Our Yoga Teacher Training course has always been highly reviewed by our students, and we strictly follow the Yoga Alliance USA standards.
So you get to get a kick-start to your career, all the while deepening your understanding of crucial yogic concepts related to the spiritual side of this practice.
Our yogis love to talk yoga and would love to answer any questions you have about this piece or help you enroll in our Yoga Teacher Training program.
Just reach out to us, or fill out this form, and we'll get back to you ASAP.
Until then, Namaste, and have a good one!